Published 26 May 2014
|
Category:
New Features
---
We've added some new features to the shortcut menu, which make managing your goals quicker and easier than ever before. Remember that you can access the shortcut menu from the Goal Map by right-clicking on a step or goal's circular icon (or tapping it if you're on a touchscreen), and from the To-Do list by using the arrow button to the right of a to-do.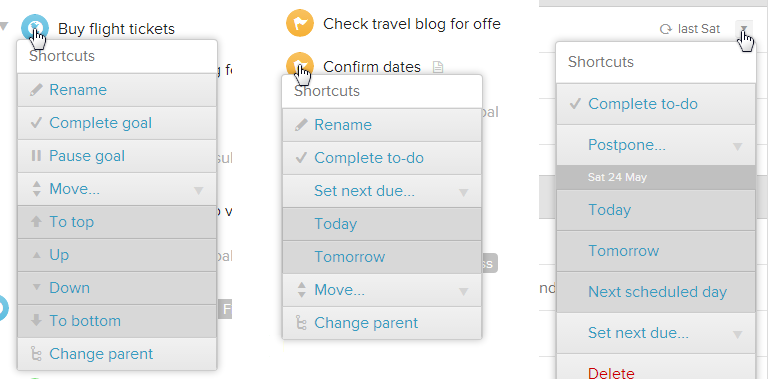 If a step is overdue, or due today, a new contextual Postpone option appears. When clicked, it expands to show the current due date, and some common postpone options.
If you want to change a step's due date without a negative postpone action appearing in its history, you can use the Set next due option, which behaves in the same way as postpone, as well as allowing you to clear the existing due date with a single click.
Reorganising steps and goals was previously only possible by dragging them round with a mouse. The new Move option on the shortcut menu now allows for reorganising on a touchscreen with just a few taps.
Managing the due date is still possible as it was before, by visiting the step or goal's page and using the Edit feature, but by adding them to the shortcut menu we're aiming to provide an even faster and more streamlined experience for keeping your Goal Map updated.
Stay tuned for more new features and improvements over the coming weeks!