Posts filed under New Features
---
Published 27 Dec 2016
|
Category:
New Features
---
To wrap up 2016, we've just added a new graph to Nach. See at a glance a heatmap of your entire productivity history, from the day you joined Nach, using the new Year Calendar, accessible from the Graphs page.

Each square's colour intensity is driven by the number of steps completed and positive habits reinforced on a given day, and contains a blue corner if any goals were completed on that day (which you can see listed by hovering over).
The end of the year is a great time to take a step back and review everything at a high level — where did you achieve success, and where is attention needed? Several of the tools on Nach can be extremely helpful in this process. The Completed Goals graph gives a nice reminder of the big things you achieved throughout the year; the new Year Calendar gives a more in-depth view, letting you see goals in the context of your entire productivity, and discover patters across the year (or multiple years!); and finally the History section lets you really drill down to any point in the past, and see what tasks you were completing on a daily basis, and any notes that you left behind.
This kind of insight can be invaluable when it comes to making a new plan for the coming year. Now is a great time to give yourself an honest evaluation, take these learnings on board, and tidy up your Goal Map — taking decisive action on goals that have been long-neglected, and mapping out new ambitions and goals into solid plans which you can start actioning in 2017.
---
Published 29 Aug 2015
|
Category:
New Features
---
Until this point, the Calendar has simply acted as an alternate way of viewing the steps you manage through the To-Do List and Goal Map. Today, we've rolled out a set of enhancements which make the Calendar fully interactive when used from a desktop or laptop, so that it can be used just as effectively to manage and reorganise your steps and goals.
Firstly, as suggested on our roadmap, steps and goals can now easily be dragged and dropped between different days on the calendar. Having the visual reference of a calendar grid to shuffle things round against can save a lot of time when trying to adjust the due dates of several different items.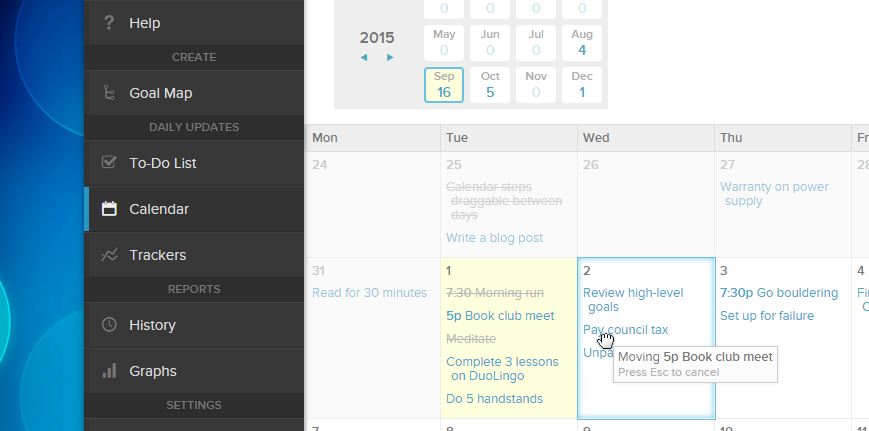 The calendar now projects at least one week into the past, and two weeks into the future, of the currently selected month, giving lots of flexibility for juggling the due dates of steps with less need for jumping back and forth between months.
However, if you do find yourself needing to change the due date of a step by several months at a time, you can even drop it into a month on the year selection widget - so you can now reschedule your entire year, without needing to leave the Calendar.
Finally, alongside the various UI tweaks and performance improvements this update also introduces, the familiar Shortcut Menu can now be reached from the Calendar too, by right-clicking on any step or goal.
If you'd like to stay up to date with the latest tweaks and enhancements as they are introduced to the platform, follow us on Twitter.
---
Published 26 Dec 2014
|
Category:
New Features
---
After opening our roadmap for voting last week, one of the first features to shoot to the top was the ability to reorganize the Goal Map using drag & drop, instead of needing to use the cumbersome "Change parent" method.
We're happy to announce that this feature has now been implemented, allowing you to drag steps and goals anywhere within the Goal Map - even into the category tabs to quickly change the category!
You can start using this feature right away within the app, or for more info, see the new Restructuring the Goal Map guide in the Help Center. And remember to keep voting for the features you want to see added next.
---
Published 18 Dec 2014
|
Category:
New Features
---
We've always been very open to incorporating user feedback and suggestions, which ties in neatly with our fast development cycle and regular rollout of new features. We're now taking this a step further by opening up our product roadmap, so you can vote on the features you'd most like to see added to Nach.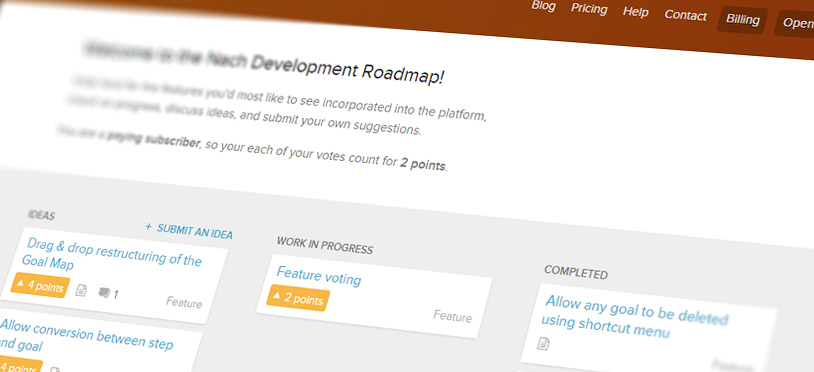 Through the new Roadmap section of the site, you'll be able to vote, discuss ideas, and easily submit your own suggestions. This isn't a replacement for sending feedback via email - you're as welcome as ever to get in touch - this is just an additional measure to increase our transparency and let everyone's voice be heard.
As a bonus for subscribers, you'll be happy to see that your votes count for double the points.
---
Published 27 Oct 2014
|
Category:
New Features
---
We're pleased to announce that Nach now supports real-time syncing across your account, from any connected device.
As long as you see a green light (in the sidebar, next to your username), it means you're connected to the network, and any changes you make will be synced to other devices you have the app open on, instantly.
This feature is available across all devices, desktop or mobile. Just make sure you're using a web browser that's up-to-date enough to support WebSockets.