Published 29 Aug 2015
|
Category:
New Features
---
Until this point, the Calendar has simply acted as an alternate way of viewing the steps you manage through the To-Do List and Goal Map. Today, we've rolled out a set of enhancements which make the Calendar fully interactive when used from a desktop or laptop, so that it can be used just as effectively to manage and reorganise your steps and goals.
Firstly, as suggested on our roadmap, steps and goals can now easily be dragged and dropped between different days on the calendar. Having the visual reference of a calendar grid to shuffle things round against can save a lot of time when trying to adjust the due dates of several different items.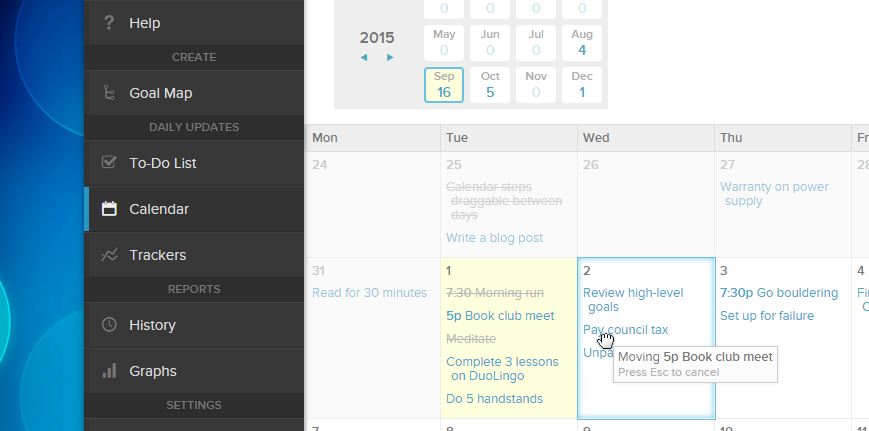 The calendar now projects at least one week into the past, and two weeks into the future, of the currently selected month, giving lots of flexibility for juggling the due dates of steps with less need for jumping back and forth between months.
However, if you do find yourself needing to change the due date of a step by several months at a time, you can even drop it into a month on the year selection widget - so you can now reschedule your entire year, without needing to leave the Calendar.
Finally, alongside the various UI tweaks and performance improvements this update also introduces, the familiar Shortcut Menu can now be reached from the Calendar too, by right-clicking on any step or goal.
If you'd like to stay up to date with the latest tweaks and enhancements as they are introduced to the platform, follow us on Twitter.