Published 26 Dec 2014
|
Category:
New Features
---
After opening our roadmap for voting last week, one of the first features to shoot to the top was the ability to reorganize the Goal Map using drag & drop, instead of needing to use the cumbersome "Change parent" method.
We're happy to announce that this feature has now been implemented, allowing you to drag steps and goals anywhere within the Goal Map - even into the category tabs to quickly change the category!
You can start using this feature right away within the app, or for more info, see the new Restructuring the Goal Map guide in the Help Center. And remember to keep voting for the features you want to see added next.
---
Published 18 Dec 2014
|
Category:
New Features
---
We've always been very open to incorporating user feedback and suggestions, which ties in neatly with our fast development cycle and regular rollout of new features. We're now taking this a step further by opening up our product roadmap, so you can vote on the features you'd most like to see added to Nach.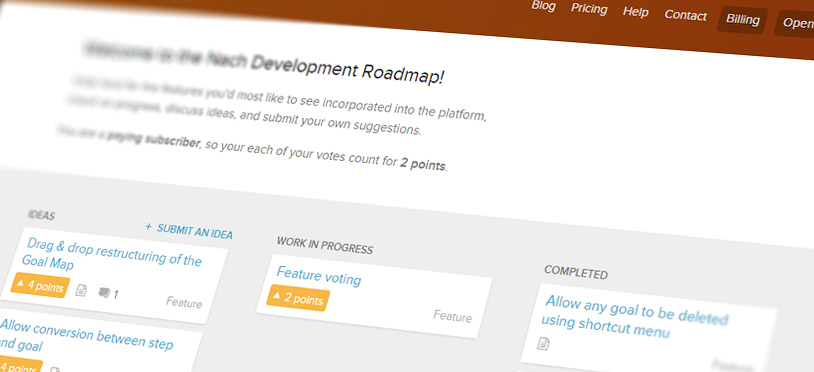 Through the new Roadmap section of the site, you'll be able to vote, discuss ideas, and easily submit your own suggestions. This isn't a replacement for sending feedback via email - you're as welcome as ever to get in touch - this is just an additional measure to increase our transparency and let everyone's voice be heard.
As a bonus for subscribers, you'll be happy to see that your votes count for double the points.
---
Published 27 Oct 2014
|
Category:
New Features
---
We're pleased to announce that Nach now supports real-time syncing across your account, from any connected device.
As long as you see a green light (in the sidebar, next to your username), it means you're connected to the network, and any changes you make will be synced to other devices you have the app open on, instantly.
This feature is available across all devices, desktop or mobile. Just make sure you're using a web browser that's up-to-date enough to support WebSockets.
---
Published 31 Aug 2014
|
Category:
New Features
---
We've just rolled out a new version of the app, which, among numerous tweaks and improvements, introduces two widely requested features.
Firstly, the new Inbox acts as a place to put odd tasks, or those which you don't yet have an organised goal to store under. From the Goal Map, the Inbox behaves like other goals - except that it can't be edited or deleted, and it can only contain steps (no sub-goals). The introduction of the Inbox allowed us to add another regularly requested feature - steps can now be quickly created from the top of the To-Do List, and will be placed in the Inbox.
The next big feature is Quick-Add Shortcuts, which is probably most easily demonstrated through a video:
These shortcuts let you define some of the most common attributes while creating a step, so you no longer have to click away from the Goal Map when setting up things like due dates or repeating options. For further information see our shortcut reference.
---
Published 25 Aug 2014
|
Category:
New Features
---
Forgotten where exactly you stored a specific note or piece of information? No longer a problem, thanks to the newly launched account-wide search feature. The new Search tab with the app puts everything you've ever saved on the app at your figertips - goals, steps, notes, attachments and trackers - even those which have have been long since archived.

The search tool also features lots of advanced syntax options - such as exact phrase matching (e.g. "new car") and wildcards (e.g. advert*, which matches anything from advert to advertisement).
You can even search against specific attributes of objects. To give just a few examples:
Adding active:false to your search will return only objects which are currently inactive (meaning they've been archived or are children of an archived goal).
Show only completed goals and steps with completed:true.
Find any goals that you've made public with public:true.
For a full list of available search modifiers, see the searching guide in the Help Center.